Glencore is one of the world's largest producers of cobalt as a result of by-products created from its copper assets in the DRC and nickel assets in Australia, Canada and Norway.
"We are very excited to formally acquire this strategically located cobalt property from Glencore. Its purchase agreement allows LiCo to expand upon one of Glencore's longstanding Canadian cobalt assets. If all goes as planned, we could be selling all our cobalt produced back to Glencore in the future. As I have mentioned before, not only is this a great cobalt asset, but we have also found a significant future customer in Glencore." states Tim Fernback, LiCo's President & CEO.
Strategically, the Glencore Bucke property consists of 16.2 hectares and sits along the west boundary of LiCo's Teledyne Cobalt Project that covers the southern extension of the former producing 15 Vein on the past-producing Agaunico Mine Property. Historically, the Agaunico Mine produced 4,350,000 lbs. of cobalt and 980,000 oz. of silver during the mining boom of the early 1900's (Cunningham-Dunlop, 1979).
In the early 80's the Glencore Bucke property was explored by 36 surface diamond drill holes totaling 3,323 m. The drilling program outlined two separate vein systems hosting significant cobalt and silver values. The two zones are known as the Main Zone, measuring 152.4 m in length, and the Northwest Zone, measuring 70.0 m in length. The Main Zone had a north-south strike, which is hypothesized as the southern extension of the #3 vein from the Cobalt Contact Mine located immediately to the north of lease #585 (Bresee, 1982). Additional work was recommended but never completed due to a downturn in cobalt prices at the time.  LiCo has recently completed the Glencore Bucke Property Phase 1 diamond drilling program.  During the fall of 2017, LiCo completed 21 diamond drill holes totaling 1,900 m.  A summary of the results of the Glencore Bucke Property Phase 1 diamond drilling program can be found in LiCo's news release dated January 26, 2018.
On LiCo's adjacent Teledyne property, historical drilling also encountered two zones of cobalt/silver mineralization extending from the boundary of mined zones at the Agaunico Mine in a north-south direction. In 1980, Teledyne completed a 700 m long production decline to reach the mineralization encountered in their surface drill program. Both the surface and underground drilling programs confirmed the extension of the Agaunico cobalt zones onto the Teledyne property for a strike length of 152.4 m. In addition, the drill program encountered a second zone with a strike length of 137.2 m. The most significant results included 0.644% Co over 16.9 m, 0.74% Co over 8.7m, and 2.59% Co over 2.4 m (Bresee, 1981).  LiCo has recently completed a Phase 1 diamond drilling program on the Teledyne Property in the fall of 2017, whereby LiCo completed 11 diamond drill holes totaling 2,200 m.  
Terms of the Acquisition
Purchase Price – The Purchaser shall pay to the Vendor the sum of $150,000 on the Approval Date; and pay to the Vendor the sum of $350,000 within 6 months after the date of the Agreement (the "Closing Date"). In addition, prior to the Closing Date during the Acquisition Period, the Purchaser shall incur $250,000 in Exploration Expenditures on the Property.
Offtake Agreement – Prior to the commencement of Commercial Production, the Purchaser shall enter into an off-take agreement with the Vendor for all ores and/or concentrates produced from the Property and/or the Teledyne Property. The off-take agreement shall be on such terms and conditions as are commercially reasonable and at prevailing market prices;
Production Royalty – The Royalty will consist of a 3.5% of Net Smelter Return calculated on a quarterly basis on all Products extracted from, processed and sold that originate from mining operations on the Property from and after Commercial Production. One-half (1/2) of the Royalty can be purchased for $1,000,000 payable to the Vendor or its assignee;
Back-In Option – from and after the Closing Date, subject to Glencore or an affiliate, determining that a discovery of one or more ore bodies having a minimum aggregate in-situ value of $100M or more from which minerals can be feasibly extracted, the Purchaser grants to the Vendor or its nominated affiliate an irrevocable, sole and exclusive right and option to acquire from the Purchaser a 51% interest in the Property and all Property Rights, free and clear of all burdens of any nature or kind. Once the Back-in Option is exercised a joint venture will be formed and a management committee established with representatives of both companies.
About Glencore:
Glencore plc is a leading integrated commodity producer and trader, operating worldwide with diversified operations comprising around 150 mining and metallurgical, oil production and agricultural assets. Glencore's industrial and marketing activities are supported by a global network of more than 90 offices located in over 50 countries where they employ around 155,000 people, including contractors. Glencore trades in and distribute physical commodities sourced from third party producers as well as their own production. The company also provide financing, processing, storage, logistics and other services to commodity producers and consumers.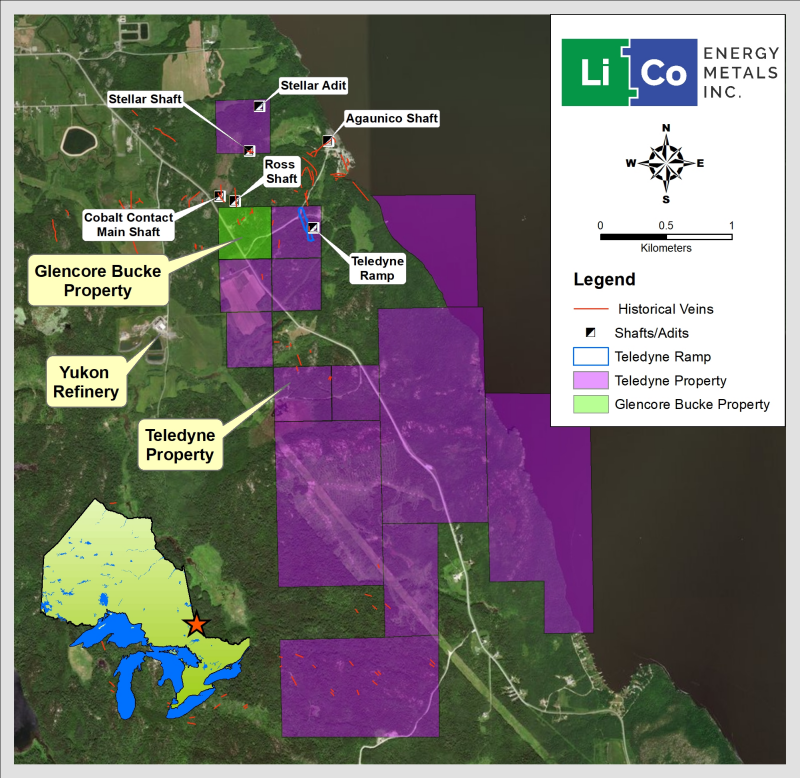 Click Image To View Full Size
About LiCo Energy Metals : https://licoenergymetals.com/
LiCo Energy Metals Inc. is a Canadian based exploration company whose primary listing is on the TSX Venture Exchange. The Company's focus is directed towards exploration for high value metals integral to the manufacture of lithium ion batteries.
Glencore Bucke Cobalt Project (Cobalt, Ontario) :  The Company has purchased a 100% interest from Glencore Canada Corporation (subsidiary of Glencore plc) in the Glencore Bucke Property, situated in Bucke Township, 6 km east-northeast of Cobalt, Ontario, subject to a back-in provision, production royalty and off-take agreement .  Strategically, the Glencore Bucke Property consists of 16.2 hectares and sits along the west boundary of LiCo's Teledyne Cobalt Project.  The Property covers the southern extension of the #3 vein that was historically mined on the neighbouring Cobalt Contact Property located to the north of the Glencore Bucke Property.  Diamond drilling in 1981 on the Glencore Bucke Property delineated two zones of mineralization measuring 150 m and 70 m in length.  
Ontario Teledyne Cobalt Project (Cobalt, Ontario):
The Company has an option to earn 100% ownership, subject to a royalty, in the Teledyne Project located near Cobalt. Ontario.  The Property adjoins the south and west boundaries of claims that hosted the Agaunico Mine.  From 1905 through to 1961, the Agaunico Mine produced a total of 4,350,000 lbs. of cobalt and 980,000 oz. of silver. A significant portion of the cobalt that was produced at the Agaunico Mine located along structures that extended southward onto the Teledyne property.  T he Company completed a total of 11 diamond drill holes totaling 2,200 m in the fall of 2017.  The drilling has confirmed cobalt mineralization present on the Property which is consistent with historical grades as reported historically by Cunningham-Dunlop (1979) and Bressee (1981), disclosed in earlier news releases.  These reports are available in the public domain through MNDM's AFRI database.  
NI 43-101 Reports for both the Teledyne and Glencore Bucke Properties, are publicly available on www.SEDAR.com as well as the Company's website.  LiCo's recently completed diamond drilling program (September to December 2017) consisted of both twinning and infill drilling of the historical drill holes located on both the Teledyne Cobalt and Glencore Bucke Properties.  
Purickuta Lithium Project (Chile):
The Purickuta Project is located within Salar de Atacama, a salt flat encompassing 3,000 km2, being about 100 km long, 80 km wide and home to approximately 37% of the worlds Lithium production and Chile itself holds 53% of the world's known lithium reserves (Source: Bloomberg Markets – June 23, 2017, "Lithium Squeeze Looms as Top Miner Front-Loads, Chile Says") .   The property is 160 hectares large and is enveloped by a concession owned by Sociedad Quimica y Minera ("SQM") and lies within a few kilometers of a property owned by CORFO (the Chilean Economic Development Agency) where its leases land to both SQM and Albermarle's Rockwood Lithium Corp. ("Albermarle") for lithium extraction.  Together these two companies, SQM and Albermarle, have a combined annual production of over 62,000 tonnes of LCE (Lithium Carbonate Equivalent) making up 100% of Chile's current lithium output.  As reported in The Economist (June 15, 2017 – A battle for supremacy in the lithium triangle) , the Salar de Atacama has the largest and highest quality proven reserves of lithium.  The combination of the desert's hot sun, scarce rainfall, and the mineral-rich brines make Chile's production costs the world's lowest.  This together with a favourable investment climate, low levels of corruption, and the quality of its bureaucracy and courts makes Chile a favourable place to conduct business.
Dixie Valley Lithium Project (Nevada, USA):
The Company has an option to acquire a 100% interest, subject to a 3% NSR, on a large lithium exploration project at the Humboldt Salt Marsh in Dixie Valley, Nevada.  Some important geological similarities exist between various lithium brines, notably geothermal activity, a dry climate, a closed basin, an aquifer, and tectonically driven subsistence exist at Dixie Valley along with Clayton Valley and various lithium bearing salars in Chile, Argentina and Bolivia.
Black Rock Desert Lithium Project (Nevada, USA):
The Company has entered into an option agreement whereby the Company may earn an undivided 100% interest, subject to a 3% NSR, in the Black Rock Desert Lithium Project in southwest Black Rock Desert, Washoe County, Nevada.
The technical content of this news release has been reviewed and approved Joerg Kleinboeck, P.Geo., an independent consulting geologist and a qualified person as defined in NI 43-101.
On Behalf of the Board of Directors
Tim Fernback, President & CEO
Neither the TSX Venture Exchange nor its Regulation Services Provider (as that term is defined in the policies of the TSX Venture Exchange) accepts responsibility for the adequacy or accuracy of this release.
Disclaimer for Forward-Looking Information:
This news release may contain forward-looking statements which include, but are not limited to, comments that involve future events and conditions, which are subject to various risks and uncertainties. Except for statements of historical facts, comments that address resource potential, upcoming work programs, geological interpretations, receipt and security of mineral property titles, availability of funds, and others are forward-looking. Forward-looking statements are not guarantees of future performance and actual results may vary materially from those statements. General business conditions are factors that could cause actual results to vary materially from forward-looking statements.
Copyright (c) 2018 TheNewswire - All rights reserved.