The exploration program has been designed to follow the success of large explorers in the immediate area. Till and soil sampling is expected to be completed on these high priority claim blocks to identify gold trend anomalies.  All till samples will be sent to the laboratory and interpreted to identify for potential gold sources.
Further updates on this program will be released as they become available.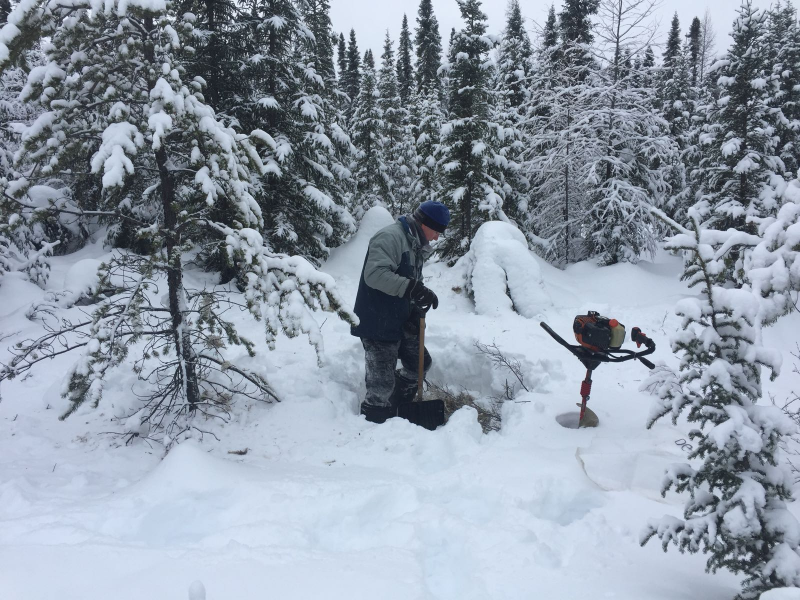 Click Image To View Full Size
Durango is a natural resources company engaged in the acquisition and exploration of mineral properties. The Company has a 100% interest in the Mayner's Fortune limestone property and the Golden Triangle properties in northwest British Columbia, the Découverte and Trove & Windfall gold properties in the Abitibi Region of Quebec, and certain lithium properties near the Whabouchi Mine and the Buckshot graphite property near the Miller Mine in Québec, the Dianna Lake silver project in northern Saskatchewan, the Whitney Northwest property near Timmins, Ontario.
For further information on Durango, please refer to its SEDAR profile at www.sedar.com.
Marcy Kiesman, Chief Executive Officer
Telephone: 604.339.2243
Email: durangoresourcesinc@gmail.com
Website: www.durangoresourcesinc.com
Forward-Looking Statements
This document may contain or refer to forward-looking information based on current expectations, including commencement and completion of future exploration and the impact on the Company of these events. Forward-looking information is subject to significant risks and uncertainties, including market conditions, as actual results may differ materially from forecasted results. Forward-looking information is provided as of the date hereof and we assume no responsibility to update or revise them to reflect new events or circumstances. For a detailed list of risks and uncertainties relating to Durango, please refer to its prospectus filed on its SEDAR profile at www.sedar.com .
Neither TSX Venture Exchange nor its Regulation Services Provider (as that term is defined in the policies of the TSX Venture Exchange) accepts responsibility for the adequacy or accuracy of this release.
Copyright (c) 2017 TheNewswire - All rights reserved.