Casino stocks are stumbling out of the gate in 2018 after Macau finished 2017 with a December revenue number that fell just short of consensus analyst expectations. Melco Resorts & Entertainment Ltd (ADR) (NASDAQ: MLCO), Wynn Resorts, Limited (NASDAQ: WYNN), Las Vegas Sands Corp. (NYSE: LVS) and MGM Resorts International (NYSE: MGM) all initially traded lower Tuesday morning after Macau reported 15-percent revenue growth in December, less than consensus analyst expectations of 20-percent growth.
Hot Hands
The good news for casino investors is that the soft December may have simply been due to some hot hands at the gambling tables. Gambling winnings were higher than expected, especially among a handful of high-rollers, according to analysts. 
Despite a disappointing finish to the year, 2017 was a huge overall success for Macau. The world's largest gambling hub has now reported 17 consecutive months of year-over-year gross gaming revenue growth after suffering through a two-year downturn in revenue following a government corruption crackdown that started in 2014.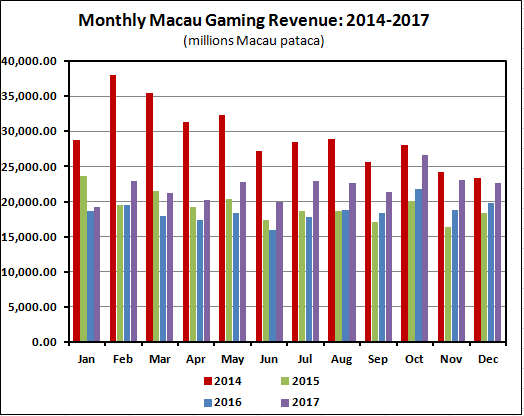 Macau finished 2017 with full-year gaming revenue of $33.1 billion, up 19 percent from 2016. Casino investors have certainly taken notice of Macau's recovery. Shares of all four U.S.-listed Macau stocks had strong years in 2017, led by a 91.8-percent gain by Wynn.
The Return Of Volatility
The return of high-rolling VIP gamblers in Macau means investors should expect a certain level of volatility in the monthly revenue numbers, Union Gaming Securities analyst Grant Govertsen said on Tuesday.
"This volatility can be driven by the luck factor or even by the timing of VIP trips, especially on the part of some of the biggest VIP players," Govertsen said, according to Bloomberg.
After initially selling off the stocks on Tuesday morning, the market may have realized Macau was simply unlucky in December. Here's a look at how the stocks were trading at the time of publication: