Updated: 06-30-2016
Quotes at time of story, top stories today: 12:54PM | 12:43PM | 12:01PM | 09:51AM | 09:49AM | 09:29AM | 09:09AM | 08:34AM | 08:18AM
12:54PM ET
Looking Ahead - July 1, 2016
With the first day of a new month upon us, market participants will be treated to the latest round of manufacturing purchasing managers index readings from a number of countries around the globe. The reports that will matter most from a potential market-moving standpoint will be the ones out of China and the U.S.

(1) China's PMI readings for June
Official Manufacturing PMI (Thursday, June 30, at 9:00 p.m. ET)

Caixin Manufacturing PMI (Thursday, June 30, at 9:45 p.m. ET)
Why it's important

Concerns persist about the pace of economic activity in China. The manufacturing PMI reports offer insight into the level of business activity for China's manufacturing sector and will either heighten or calm those concerns.

The dividing line between expansion and contraction is 50.0

The Caixin reading, which is formed from responses of purchasing managers working predominately at smaller firms in China, is seen as being the more informative data point for market participants since the government's official manufacturing PMI report hinges on responses from purchasing managers at a lot of large, state-owned businesses
While a reading below the prior month's reading would stoke speculation Chinese authorities need to do more to stimulate growth, a decline from the prior month would also trigger concerns that China's economy may not be stabilizing after all



A closer look

The Caixin manufacturing PMI report has been under 50.0 (i.e. signaling contraction) for 15 consecutive months
The Caixin PMI reading for May was 49.2, which was up from the February reading of 48.0 but down from 49.4 in April
The official manufacturing PMI report hit 50.2 in March after seven straight readings below 50.0. It slipped to 50.1 in April and remained at 50.1 in May.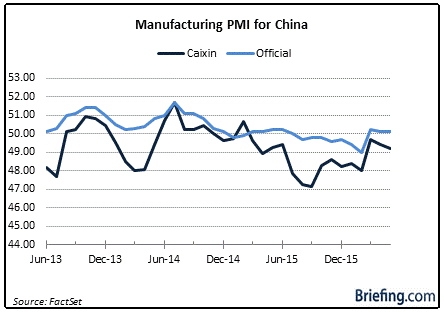 What's in play?



China ETFs

iShares China Large-Cap (FXI)
ProShares UltraShort FTSE China 50 (FXP)
Deutsche X-trackers Harvest CSI 300 (ASHR)



ETFs for regional markets

iShares MSCI Japan (EWJ)
iShares MSCI Australia (EWA)
iShares MSCI Hong Kong (EWH)
iShares MSCI South Korea Capped (EWY)
iShares MSCI Singapore (EWS)
iShares MSCI Taiwan (EWT)
iShares MSCI Malaysia (EWM)
iShares MSCI Emerging Markets (EEM)



Index ETFs

SPDR S&P 500 ETF (SPY)
PowerShares QQQ Trust (QQQ)
iShares Russell 2000 (IWM)
SPDR Dow Jones Industrial Average ETF (DIA)



Currencies
S&P futures


Commodities


Treasuries
(2) The ISM Index for June
(Friday, July 1, at 10:00 a.m. ET)
Why it's important

It's the first economic release every month, providing timely information on business activity in the manufacturing sector
The report can either build confidence, or reduce confidence, in economic prospects

The report's dividing line between expansion and contraction in the manufacturing sector is 50.0 (above 50 signals expansion and below 50 signals contraction)

This report will be released on the heels of other purchasing managers' reports out of Japan, China, India, Spain, France, Italy, and the eurozone as a whole

With PMI readings from abroad, the ISM Index will provide some answers as to how the U.S. manufacturing sector is faring on a comparative basis

It offers information on the pace of new orders, production, employment, deliveries, inventories, export orders, and prices paid for manufacturers
This is a June report, so it will help contribute to expectations for the second quarter growth outlook



A closer look

The reading of 51.3 for May was up from 50.8 in April
The Briefing.com consensus estimate for June is 51.4
What's in play?



Sector ETFs

Industrial Select Sector SPDR (XLI)
Materials Select Sector SPDR (XLB)
PowerShares Dynamic Industrials (PRN)



Index ETFs

SPDR S&P 500 ETF (SPY)
PowerShares QQQ Trust (QQQ)
iShares Russell 2000 (IWM)
SPDR Dow Jones Industrial Average ETF (DIA)



Treasuries (TBT, TLT, SHY, SCHO)


Fed funds futures


Currencies
12:43PM ET
Tractor Supply [TSCO] trades modestly lower following warning

Aptly-named Tractor Supply (TSCO 91.83, -3.34 -3.51%) is trading modestly lower today in the midst of the broader market advance as the company lowered certain guidance metrics and announced second quarter net sales in a press release last night after the close.
For those who may not be familiar, the company is mainly an equipment supplier to recreational farmers and ranchers as well as tradesmen and small businesses. As of the last quarterly results, TSCO operated 1,542 stores mainly in outlying and rural areas.
In terms of Q2, TSCO noted net sales are slated to be up 4.5% to $1.85 billion on a comparable store sales decline of 0.5% versus a 5.6% increase in the prior year. Management noted the softness in store sales occurred in the first two months of the quarter and they believe this was primarily due to cooler than average spring season temperatures. The company also expects earnings per share (EPS) to come through in the range of $1.15-1.16, below Street expectations.
As for Q2 comparable store sales, management noted they were heavily impacted by certain seasonal products such as riding lawn mowers, live goods and rubber footwear that performed very well in the prior year and faced very difficult comparisons on top of challenging weather trends. In the same vein, TSCO said sales of big ticket items, which performed well above company average last year, were down about 8.5% this year, driven mostly by riding lawn mowers and other power equipment, which was the primary contributor to the comparable average ticket decrease of 1.9%.
Also in Q2, management noted the Livestock and Pet category experienced continued strength with a mid-single digit comparable store sales increase in each month of the quarter, including high single digit comparable store sales in pet and animal food.
In light of the updated expectations for Q2, TSCO lowered FY16 net sales and EPS guidance owing to cooler temperatures throughout much of the country in April and May, resulting in a reversal from favorable weather in March and early Easter.
To that end, TSCO now sees net sales for FY16 in the range of $6.8-6.9 billion versus prior expectations in the range of $6.9-7.0 billion, taking the company's forecast to below Street views. Additionally, TSCO now sees EPS for FY16 in the range of $3.35-3.40 versus prior expectations for FY16 EPS of $3.40-3.48.
For FY16, TSCO also sees comparable store sales growth of 2.5-3.5% versus prior expectations for growth of 3.5-5.0%.
In all, the Q2 preliminary results and FY16 warning come on a day when the broader market is settling into some nice gains -- Dow Jones Industrial Average (+1.04%), S&P 500 (+0.97%), Nasdaq Composite (+0.90%). The full Q2 results are slated for an after-hours July 20 release with a conference call scheduled for later that same evening.
12:01PM ET
Syros Pharmaceuticals
Syros Pharmaceuticals' (SYRS) IPO didn't get off to the strongest of starts, pricing below expectations at $12.50 vs. the $14-$16 projected range. The 4.0 million share deal raised gross proceeds of $50 million, about 17% less than expected. The good news, however, is that SYRS saw solid interest once it opened for trading. The first trade fired off at $15, good for a 20% pop, and the stock has continued to move higher since. At the moment, SYRS is trading at $16.50, up 30% from the IPO price. So, all in all, despite the weak pricing, it has been an encouraging debut for SYRS

Business

Syros Pharmaceuticals (SYRS) is a clinical-stage biopharmaceutical company that is developing treatments to control the expression of disease-driving genes. The company is currently focused on developing treatments for cancer and immune-mediated diseases.

Syros' lead product candidate is SY-1425 (tamibarotene) for the treatment of relapsed or refractory acute myelogenous leukemia (AML) and relapsed high-risk myelodysplastic syndrome (MDS). The company plans to begin a Phase 2 clinical trial in the US for SY-1425 in mid-2016. It's worth noting that SY-1425 is approved as tamibarotene in Japan for the treatment of APL, which is a form of AML. Syros has exclusive North American and European commercial rights to the existing preclinical data for SY-1425 in all human cancers under their license agreement with TMRC Co.

An earlier-stage pipeline candidate is SY-1365 for the treatment of acute leukemia. The company plans to initiate a Phase 1/2 clinical trial for this asset in the first half of 2017.

Financials

As an early development-stage company, SYRS has no commercial revenue and has been reporting sizable losses. For 1Q16, the operating loss came in at ($10.6) million. As of March 31, 2016, the company had cash & equivalents of $62.1 million. The company believes that their current cash position is sufficient to enable them to reach an initial clinical data readout for SY-1425 in AML and MDS, and to fund their operating expenses and capex requirements at least through mid-2017. Following its IPO, the company expects to have approximately $115 million in cash.
09:51AM ET
Lionsgate [LGF] to acquire Starz [STRZA]; creates a global content powerhouse

A major acquisition was announced in the media space this morning. Lionsgate (LGF) is acquiring Starz (STARZ) for a combination of cash and stock totaling $4.4 bln, creating a global content powerhouse. Before getting into the details about the merger, some background would help. Lionsgate is well known as a major player in terms of motion picture production and distribution. However, many investors may not realize that LGF also is a major player in terms of television programming and syndication, home entertainment, international distribution, branded channel platforms etc.
LGF has nearly 80 television shows on 40 different networks, including the hit series Orange is the New Black (Netflix), the drama series Nashville (ABC), syndication successes in The Wendy Williams Show and Celebrity Name Game (with FremantleMedia), the breakout series The Royals (E! channel) and the Golden Globe-nominated dramedy Casual (Hulu). Its feature film business spans eight labels and includes the blockbuster Hunger Games franchise, the Now You See Me, Divergent and John Wick series, Sicario, The Age of Adaline, Roadside Attractions' Love & Mercy and Mr. Holmes etc.
Starz owns the Starz and Encore premium movie channels. Its flagship STARZ network has 24 mln subscribers in the US while the STARZ ENCORE network has 32.4 mln subscribers. Through STARZ, the company provides premium subscription video programming with 17 premium pay TV channels and associated on-demand and online services. STARZ is sold through cable operators, satellite TV providers, telecom companies, and other online and digital platforms. It offers STARZ Original series, first-run movies and other popular movie and television programming.
Turning to today's deal, the transaction significantly increases the combined company's content creation capabilities, enhances its premium scripted programming and scales its global distribution footprint across mobile, broadband, cable and satellite platforms. It also paves the way for a broad range of new content partnerships and accelerates the growth of Lionsgate and Starz's own OTT services.
To illustrate the scale of the transaction, the combined company will encompass: a 16,000-title film and television library; the largest independent television business in the world, including 87 original series on 42 US networks; a feature film business that has generated over $7 billion at the global box office over the past four years; operation of or investment in 30 channel platforms.
Each share of Lionsgate common stock will be reclassified into 0.5 voting and 0.5 newly created non-voting shares. Holders of each share of Starz Series A common stock will receive $18.00 in cash as well as 0.6784 of a share of Lionsgate non-voting stock based on a fixed exchange ratio. The offer represents a total value of $32.73 per share to Starz shareholders, a 16% premium from yesterday's close. Starz Series B holders will receive $7.26 in cash and 0.6321 of a share of Lionsgate voting stock and 0.6321 of a share of Lionsgate non-voting stock.
In sum, the deal is not a huge surprise as there have been news reports that the two sides were in discussions. The deal seems to make sense for both sides. For LGF, the steady subscriber fees Starz receives will help to balance the ups-and-downs of the movie business. It also provides an outlet for LGF's tv programming. For example, we would not be surprised to see LGF's original programming like Orange is the new Black moving over to Starz from Netflix (NFLX) at some point. For Starz, the deal makes sense as its stock is down nearly 40% from its 52-week highs. Perhaps some enhanced content from LGF's movies and tv programming will allow Starz to negotiate higher subscriber fees from cable operators.
Finally, this deal may be seen as a negative for AMC Networks (AMCX) as it was reported in September 2015 that AMCX may be looking to acquire Starz. CBS has also been rumored to be looking at buying Starz as well. Other media companies to watch: CMCSA, CHTR, CVC, TWC, FOXA, VIAB, CBS, DIS, LMCA, DISCA, SNI, TWX, NFLX ,DISH, CMLS.
09:49AM ET
McCormick [MKC] trades roughly flat following Q2 results, guidance

McCormick (MKC) opened modestly lower this morning, but quickly traded back to unchanged levels, after the company reported better than expected 1Q16 (February) earnings and said it sees FY16 EPS and sales at the upper end of its previously-issued range.
Company Background:
MKC sells a wide range of spices, seasoning mixes, and condiments to both consumers and the food industry. It operates in two business units: Consumer and Industrial. The Consumer unit includes well-known brands such as McCormick, Lawry's, Zatarain's, Thai Kitchen, Simply Asia, and others. These products are sold all over the world in grocery stores, warehouse clubs, drugstores, and other retail outlets. Within this unit, the company says it derives 60% of sales from brands that are #1 in their category. The Industrial unit sells seasoning blends, herbs & spices, condiments, coating systems, and compound flavors to food manufacturers and foodservice customers. The company claims that it sells to 9 of the top 10 global food companies, as well as 9 of the top 10 foodservice and restaurant chains.
Q2 Results & Guidance:
This morning, the company reported that 2Q16 (May) sales rose +4% to $1.06 billion, which was in-line with expectations, while EPS was flat year-over-year at $0.75, which was a penny better than expectations. Sales included an unfavorable impact of 2% from foreign currency exchange rates. Acquisitions added 3% to the sales increase, including the incremental impact of Drogheria & Alimentari and Stubbs, which were purchased in 2015, and Gourmet Garden, which was purchased this year. Another 3% was added to sales growth by product innovation, brand marketing support, and expanded distribution, as well as pricing actions to offset an increase in material costs. The company said that in constant currency terms, Q2 sales grew +6%.
Looking ahead, the company reaffirmed its FY16 (November) guidance, but stated that it has "greater confidence in achieving the higher end" of their previously-issued ranges. Specifically, the company reaffirmed FY16 EPS guidance of $3.68-3.75 and its FY16 revenue growth guidance of +1-3%. The company said that drivers of this projected sales increase include higher base business sales, new products, acquisitions, and pricing.
The company also reaffirmed its expectation to grow adjusted operating income +6% to +8% from adjusted operating income of $614 million in 2015.
09:29AM ET
Lindsay Corp [LNN] Third Quarter Results Fall Short
Lindsay Corp (LNN 68.87) reported third quarter earnings of $0.90 per share, which fell short of expectations. On the top line, revenues fell 12.1% year/year to $141.3 million, which also fell short of expectations.

The backlog of unshipped orders at May 31, 2016 was $61.2 million compared with $53.2 million at May 31, 2015 and $52.6 million at February 29, 2016.

Irrigation results reflect continued headwinds from low commodity prices and farm income.

The company is also managing through the challenge of recent increases in raw material costs by passing along the cost of those increases in the market. Activity in the infrastructure market is beginning to show improvement, and we continue to be encouraged by the improved performance of our infrastructure business.

Irrigation segment revenues for the quarter were $117.3 million, an 11% decrease from $131.3 million in the prior year's third quarter. U.S. irrigation revenues of $73.4 million decreased 18%, reflecting the combined effect of lower unit volume and reduced market pricing, passing through lower material costs.

International irrigation revenues for the third quarter were $43.9 million, up 4% over the same quarter last year, including a negative currency translation impact of 4%. Sales were improved in several markets while Brazil and certain export markets experienced declines.

Infrastructure segment revenues decreased 18% to $24.0 million for the quarter as relatively flat sales in road safety products were offset by lower Road Zipper System project sales compared to the prior year.

Lower material costs help margins...
Gross margin was 29.6% of sales compared to 28.9% of sales in the prior year's third quarter, increasing approximately 1 percentage point in both the irrigation and infrastructure segments. Irrigation margins improved primarily due to the benefit of lower material costs.

Looking ahead, Rick Parod, president and chief executive officer, said, "Irrigation results reflect continued headwinds from low commodity prices and farm income. We are also managing through the challenge of recent increases in raw material costs by passing along the cost of those increases in the market. Activity in the infrastructure market is beginning to show improvement, and we continue to be encouraged by the improved performance of our infrastructure business."

Parod continued, "We are at the early stages of the growing season in the U.S., and while commodity prices have increased during the quarter, yields from the current growing season and where commodity prices settle in the fall will be more important in terms of grower sentiment and incentive for capital investment. Although the current environment continues to be constrained, the longer term drivers for our markets of population growth, expanded food production, efficient water use and infrastructure upgrades and expansion remain positive."
09:09AM ET
ConAgra [CAG] Slides After Soft Revenue Overshadows In-Line Earnings

Shares of ConAgra (CAG 45.65, -1.95) are set to begin the day with a 4.1% decline after the company reported in-line earnings on below-consensus revenue.
The food company reported fourth-quarter earnings of $0.52 per share on a 9.5% year-over-year decline in revenue to $2.83 billion.
Sales in the Consumer Foods segment declined 12.0% to $1.70 billion with seven percentage points of the decline due to one extra week of sales during the same quarter a year ago. On an adjusted basis, sales declined 5.0%, which was fueled by a 4.0% decline in volume, flat price/mix, and a 1.0% negative impact from foreign exchange translations. Segment operating profit declined 25.6% to $230 million on a reported basis and was down 10.5% year-over-year when adjusted for items impacting comparability.
Commercial Foods segment sales declined 6.0% to $1.10 billion due to one extra week of sales a year ago. On an adjusted basis, sales were comparable with results from last year.
The company agreed to sell Spicetec Flavors & Seasonings during the quarter and announced an agreement to sell JM Swank after the quarter. Both divestitures are expected to be completed during the on-going quarter.
The company noted that it plans to separate into two separate entities-Conagra Brands and Lamb Weston. The Lamb Weston business will be spun off in a tax-free manner for the company and its shareholders. The spin-off will take place in the fall of 2016 and it will be preceded by investor events at both companies, during which financial goals and priorities will be outlined. Results for the first quarter of fiscal year 2017 will be reported as a consolidated enterprise in September 2016.
08:34AM ET
Constellation Brands [STZ] Climbs After Earnings Beat

Constellation Brands (STZ 162.87, +3.48) has climbed 2.2% in pre-market action after beating earnings and revenue estimates.
The company delivered first-quarter earnings of $1.54 per share on $1.87 billion in revenue. The company's top line grew 14.8% year-over-year, coming in ahead of market expectations. The sharp growth rate was partly due to benefits from the acquisitions of Ballast Point and Meiomi. Organic net sales expressed in constant currency terms increased 10.0%.
Beer net sales increased 19.0% thanks to a 15.0% increase in organic net sales due to volume growth and favorable pricing. Beer operating income rose 22.0% thanks to organic volume growth, favorable pricing, and benefit from the acquisition of Ballast Point.
Wine and spirits net sales grew 8.0%, driven mostly by the acquisition of Meiomi. Organic net sales grew 3.0% on a constant currency basis, reflecting volume growth and favorable mix. Wine and spirits operating income spiked 17.0%. The company noted that the integration of the recently-acquired The Prisoner wine brands has gone smoothly.
Going forward, the company expects to generate full-year earnings between $6.05 and $6.35 per share, which is in the neighborhood of consensus estimates. Beer net sales and operating income are expected to increase between 14.0% and 17.0%.
Shares of Constellation Brands are set to begin the trading day in the neighborhood of the record closing high that was set on May 10 (163.52).
08:18AM ET
Bank Stocks Advance on CCAR Results [KBE]

After Wednesday's close, the Federal Reserve released the results for its Comprehensive Capital Analysis and Review (CCAR), which evaluates the capital adequacy, capital planning process, and planned capital distributions for 33 bank holding companies (BHC) with $50 billion or more in total consolidated assets. The results turned out generally as expected, which is to say almost every BHC had its capital return plan approved.
Specifically, there was no objection to the plans for 31 of the 33 companies under review.
The two BHCs that did not win approval of their plans were Deutsche Bank Trust Corporation and Santander Holdings USA, Inc. The Federal Reserve objected to their plans "...because of broad and substantial weaknesses across their capital planning processes, and insufficient progress these firms have made toward correcting those weaknesses and meeting supervisory expectations.
Notably, Morgan Stanley (MS) received a conditional non-objection of its plan. The Federal Reserve is requiring Morgan Stanley to resubmit a capital plan by December 29, 2016, to address what the Federal Reserve says are weaknesses observed in the firm's capital planning process.
Dividend increases and/or increased share purchase plans are going to be executed by the 31 BHCs in the wake of the CCAR results. It's a welcome development for investors who have seen the stock prices of many BHCs get marked down sharply following the Brexit vote and which have also been under pressure due to a host of earnings concerns that involve compressed interest rate spreads.
Last week the Federal Reserve released the results of its supervisory stress test. That solidified an expectation that most, if not all, of the BHCs would win approval of their capital plans because all 33 BHCs demonstrated they would have an adequate capital buffer under the severely adverse scenario.
Some of the good news surrounding the CCAR results, then, may have already been priced in considering the SPDR S&P Bank ETF (KBE) has rebounded 6.0% over the last two sessions, bolstered in part by the belief that the CCAR results would be a silver lining for the industry in what has been a tough environment for the bank stocks.
The latter point notwithstanding, leading BHCs like Bank of America (BAC), Citigroup (C), JPMorgan Chase (JPM), Wells Fargo (WFC), and Goldman Sachs (GS) are trading modestly higher in pre-market action. That is lending a measure of support to the broader market since they are key components in the S&P 500 financial sector, which is the second most heavily weighted sector in the S&P 500.
Other publicly-traded BHCs that saw their capital plans approved include Ally Financial (ALLY), American Express (AXP), The Bank of New York Mellon (BK), BB&T Corp (BBT), Capital One (COF), Citizens Financial Group (CFG), Comerica (CMA), Discover Financial Services (DFS), Fifth Third Bancorp (FITB), Huntington Bancshares (HBAN), KeyCorp (KEY), M&T Bank (MTB), Northern Trust (NTRS), PNC Financial Services (PNC), Regions Financial (RF), State Street Corp (STT), SunTrust Banks (STI), U.S. Bancorp (USB), and Zions Bancorporation (ZION).