Updated: 09-26-2016
Quotes at time of story, top stories today: 02:16PM | 11:07AM | 10:19AM | 10:00AM | 09:38AM | 09:08AM
02:16PM ET
Looking Ahead - September 27, 2016

Notwithstanding the run by the stock market to a record high this year, it is evident in the sentiment survey from the American Association of Individual Investors that investors are not overly bullish about the six-month outlook. Consumers, on the other hand, might feel differently. We'll know more on Tuesday with the release of the Consumer Confidence report for September.
Consumer Confidence Report for September (Tuesday, September 27, at 10:00 a.m. ET)
Why it's important

It offers a gauge of consumer attitudes oriented primarily around their view of the labor market
It's a more current indicator in that it covers the month in which the report is released
The results of the report could be used by presidential candidates to shape their political narrative ahead of the November election
Rising levels of consumer confidence sustained for an extended period of time can translate into stronger spending activity (income growth, however, is the key driver of spending activity)



A closer look

The Numbers:

| | | | | |
| --- | --- | --- | --- | --- |
| Tues, Sep.27 | Time of Release | Briefing.com | Consensus | Prior |
| Consumer Confidence | 10:00 ET | 99.4 | 98.0 | 101.1 |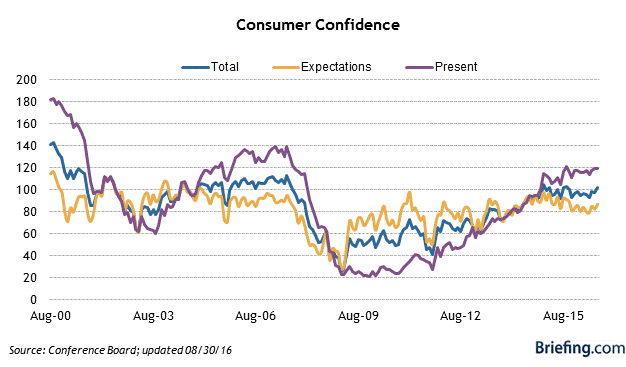 What's in play?



Consumer Discretionary Select Sector SPDR (XLY)
Consumer Staples Select Sector SPDR (XLP)


Index ETFs

SPDR S&P 500 ETF (SPY)
PowerShares QQQ ETF (QQQ)
SPDR Dow Jones Industrial Average ETF (DIA)
iShares Russell 2000 (IWM)



Treasuries


Currencies
11:07AM ET
GW Pharma [GWPH] trades to fresh 14-month highs following Phase 3 results in Epidiolex trial

Shares of UK-based GW Pharma (GWPH 123.34, +15.78) trade 14.7% higher, to new 14-month highs following 'positive' Phase 3 clinical trial results for the company's Epidiolex treatment for seizures associated with Lennox-Gastaut syndrome, a rare and severe form of childhood-onset epilepsy.
Specifically, Epidiolex, when added to the patient's current treatment, achieved the primary endpoint for both dose levels with high statistical significance. During the treatment period, patients taking Epidiolex 20mg/kg/day achieved a median reduction in monthly drop seizures of 42% compared with a reduction of 17% in patients taking placebo (p=0.0047), and patients taking Epidiolex 10mg/kg/day achieved a median reduction in monthly drop seizures of 37% compared with a reduction of 17% in patients taking placebo (p=0.0016).
Management also noted the pattern of adverse events was consistent with that reported in the previous two Phase 3 studies. Of the 84% of 10mg/kg patients who experienced an adverse event, 89% of them deemed it to be mild or moderate. Of the 94% of 20mg/kg patients who experienced an adverse event, 88% of them reported it to be mild or moderate. Also, 72% of patients on placebo experienced an adverse event.
GWPH noted Epidiolex was generally well tolerated in this trial. The pattern of adverse events was consistent with that reported in the previous two Phase 3 studies. One patient on 10mg/kg Epidiolex discontinued treatment due to an adverse event compared with six patients on 20mg/kg and one patient on placebo.
This is the second such positive trial for Epidiolex, when in June 2016, the company announced positive results for the treatment of seizures associated with LGS.
Following these trials, GWPH expects to submit a New Drug Application (NDA) to the US Food & Drug Administration (FDA) in the first half of 2017.
The positive data takes epilepsy peer Zynerba Pharma (ZYNE 13.95, +1.29 +10.19%) higher today as well as the broader market Dow Jones Industrial Average (-0.60%), S&P 500 (-0.50%), Nasdaq Composite (-0.65%) steps lower. For context, the broader sector Pharma (PPH 59.57, -1.16 -1.91%) space also trades lower.
10:19AM ET
Carnival [CCL] Trades Little Changed Despite Beating Estimates

Carnival (CCL 47.14, -0.12) trades little changed after beating earnings estimates for the third quarter.
The cruise ship operator reported above-consensus earnings of $1.92 per share on a 4.4% spike in revenue to $5.10 billion, which was just ahead of market expectations.
Gross revenue yields were up 0.6% year-over-year while net revenue yields in constant currency increased 2.7%. This was on the top end of guidance for growth between 2.0% and 3.0%. Net revenue yields are expected to increase about 3.0% in the fourth quarter.
Gross cruise costs including fuel per available lower berth day decreased 0.2% while net cruise costs excluding fuel per available lower berth day increased 2.7%. Changes in fuel prices and currency exchange rates boosted earnings per share by $0.02.
The company noted that cumulative advance bookings for the first half of 2017 are ahead of the prior year at higher prices. Booking volumes since June have declined due to a lower amount inventory remaining for sale.
Full-year net revenue yields are expected to increase about 1.0% year-over-year. Earnings guidance for the full year was increased to $3.33-$3.37 from $3.25-$3.35 per share.
10:00AM ET
Merkel Reportedly Says Nein on State Aid to Deutsche Bank [DB]

Deutsche Bank (DB 12.02, -0.74) is feeling the weight of capital concerns again today, which has pressured it stock 6% lower in the early going.
Those concerns have been hanging over the bank for some time and they were heightened in mid-September when the U.S. Department of Justice proposed a $14 billion settlement for Deutsche Bank for allegedly misleading investors on the safety profile of residential mortgage-backed securities leading up to the financial crisis.
Today, Deutsche Bank is back on the market's hot seat after a report over the weekend in German magazine Focus suggested the bank was told by German Chancellor Merkel that it won't be getting help from the government in its legal fight with the Department of Justice or any state aid in the future should the bank need financial assistance from the government.
Deutsche Bank has been quick to note that its CEO never requested any such aid nor any help in fighting the Department of Justice. A bank spokesman also said in a CNBC interview today that the bank isn't in a position where it needs to raise capital. To be fair, a government spokesperson added there was no reason for the speculation about state aid suggested in the magazine report.
The fact that the bank's stock is still trading down sharply after defending its financial position -- and refuting the key item that has pressured its stock (i.e. a potential capital raise) -- reflects a lingering mistrust in the wake of the financial crisis about what banks say publicly regarding their capital positions.
Similar defenses were made by other banks leading up to the financial crisis and they didn't ring true. This is not to say Deutsche Bank will indeed need to raise capital, only that it faces an uphill PR battle in convincing market participants of its position when there is a potentially massive legal settlement hanging over it.
A much lower settlement fee could help turn the tide of a sentiment for its stock, but for now, it is still feeling the weight of weakened confidence on the part of its investors.
09:38AM ET
Glaukos [GKOS] is seeking to revolutionize the treatment of glaucoma, a major cause of blindness

With it being a fairly slow news day, we thought we'd profile Glaukos Corp. (GKOS). It's a name that is probably not well known among investors, but the stock has been making a strong run of late and is trading at new all-time highs.
Glaukos is an ophthalmic medical technology company focused on developing and commercializing products to transform the treatment of glaucoma, one of the world's leading causes of blindness. The company pioneered Micro-Invasive Glaucoma Surgery, or MIGS, to revolutionize the traditional glaucoma treatment and management paradigm.
Glaukos launched the iStent, its first MIGS device, in the US in July 2012 and is leveraging its platform technology to build a comprehensive and proprietary portfolio of micro-scale injectable therapies designed to address the complete range of glaucoma disease states and progression. The company believes the iStent, measuring 1.0 mm long and 0.33 mm wide, is the smallest medical device ever approved by the FDA.
It is believed that more than 60 million people worldwide (4 million in the US) have glaucoma, and this number is expected to grow as the global population continues to age. The disease has traditionally been treated by a range of treatments that often require patients to use multiple types of prescription eye drops for the rest of their lives -- which is a treatment regimen that has a high degree of non-compliance -- and sometimes undergo complex and invasive eye surgery.
GKOS developed its MIGS procedure to address the shortcomings of current glaucoma treatment options. MIGS procedures involve the insertion of a micro-scale device from within the eye's anterior chamber through a small corneal incision. The MIGS device reduces intraocular pressure by restoring the natural outflow pathways for aqueous humor. The company claims that MIGS procedures are safer, preserve more eye tissue, and result in faster recovery times and fewer complications than invasive glaucoma surgical options.
The company received FDA approval and launched its first MIGS device, the iStent, in July 2012. This device is incredibly tiny, as it's about the width of a human hair and is barely visible to the naked eye. The iStent is used in combination with cataract surgery, and has been shown to lower intraocular pressure in adult patients with mild-to-moderate open-angle glaucoma, which represents the majority of glaucoma cases.
Crucially for a medical technology company, the iStent procedure is already reimbursed by Medicare (100% coverage), and during a recent earnings conference call management said they have secured iStent reimbursement for approximately 90% of individuals covered by private insurance, and 92% of iStent's total target patient population. This is a very large market opportunity for GKOS.
In sum, the stock has been on an impressive run, particularly since the company reported Q1 results in early May (+96%). GKOS followed that up with a strong Q2 report as well in early August. The company's business momentum certainly seems to have accelerated. However, the valuation has gotten pretty stretched though. It has a market cap of $1.29 bln and the company projects FY16 revenue of $105-107 mln. That computes to a price/sales of 12x, which is quite high.
With that said, GKOS has the enviable position of having a big head start in the US market. However, two major competitors (Novartis and Allergan) are awaiting approval for their devices in the US so the competition is heating up. Looking ahead, the key for GKOS will be for management to prove that it has the ability to maintain its current business momentum, and show continued progress towards sustainable profitability. In addition, they will need to assuage investor concerns over looming competition.
09:08AM ET
Cal-Maine Foods [CALM -7.3%] Set For Lower Open After Missing Estimates

Cal-Maine Foods (CALM 39.09, -3.08) is on track to open lower by 7.3% in reaction to disappointing earnings.
The egg producer reported a below-consensus net loss of $0.64 on revenue of $239.80 million, which fell 60.7% year-over-year and missed expectations.
The decline in revenue was mostly due to a 58.0% year-over-year plunge in average customer selling prices. It is worth noting that last year's prices were at record levels, partly due to disruptions caused by the Avian flu in the spring of 2015.
Lower institutional demand for egg products and reduced egg exports pushed up inventory levels and created additional pricing pressures. Retail demand remained "favorable."
Net average selling prices for a dozen eggs declined to $0.95 from $2.24 in the same quarter a year ago. Per dozen feed cost increased to $0.43 from $0.42.
In accordance with its variable dividend policy, the company did not pay a dividend for the fourth quarter of fiscal 2016 and will not pay a dividend for the first quarter of 2017. The company must recover cumulative losses of $31.30 million before paying out the next dividend.