Updated: 01-20-2017
U.S. Treasury yields declined at the 5, 10, and 30-year maturities last week as oil prices slipped lower and investors became less fearful of expansionary fiscal policy being the first priority of the incoming administration. The decline in yields for the week would have been much greater were it not for a sharp Friday sell-off in Treasury prices following December's retail sales and producer price index data.
U.S. retail sales rose by 0.6% m/m in December, just missing the Briefing.com consensus for 0.7% growth. Retail sale excluding autos were up 0.2%, falling short of the Briefing.com consensus of 0.6%. The producer price index increased by 0.3% in December and that was in line with the Briefing.com consensus, but the core PPI only grew by 0.2% (Briefing.com consensus 0.1%). The big debate in government debt markets on both sides of the Atlantic is whether stronger headline inflation that has been driven by higher energy prices will eventually filter into faster core inflation.
The Atlanta Fed's GDPNow model forecast for Q4 U.S. real GDP growth was 2.8% on Friday. The New York Fed's Nowcast estimate was just 1.9%.
The interest rate outlook for 2017 remains somewhat dependent on large changes to the fiscal contribution to U.S. growth although fiscal policy will be even more important in 2018. Another big question is whether regulatory changes will boost business confidence enough to induce a boom in capital investment or if businesses will wait to see consumer spending growth start to accelerate. Despite some very encouraging economic sentiment data -- including the largest jump ever in the NFIB Small Business Optimism Index, reported on Tuesday -- the confidence boom will also need to manifest itself in real economic activity. We will see more of that in the week of January 15 with December's industrial production data due to be released.
This past week, we also learned that Fed Chair Yellen is very likely to be one of the FOMC participants who had forecast three rates hikes for 2017 back in December's FOMC dot plot. After Atlanta Fed President Lockhart outed himself as one of the two dot participants, it took few logical leaps to conclude that Brainard and Bullard are predicting one rate hike this year and that Lockhart, Evans, Kashkari, and Tarullo are forecasting two. With all of the one and two hike dots assigned, the Fed's leadership of Fed Chair Yellen, Fed Vice-Chair Fischer, and New York Fed President Dudley are all probably forecasting three rate hikes in 2017, assuming that the economy develops as predicted.
| | | | |
| --- | --- | --- | --- |
| | 1/16/2017 | 1/9/2016 | Change |
| Fed Fund Futures Rate Prediction | June 2017 (69%) | June 2017 (67%) | NA |
| 10yr Treasury - 2yr Treasury | 119 bps | 117 bps | 2 bps |
| High Yield - 10yr Treasury | 386 bps | 391 bps | -6 bps |
| Corp A - 10 yr Treasury | 105 bps | 107 bps | -2 bps |
| 10 yr Bund - 10 yr Treasury | -212 bps | -206 bps | -6 bps |
| 5yr, 5yr Forward Inflation Breakeven | 2.12% | 2.04% | 8 bps |
The yield spread between the 10-year Treasury note and the 2-year Treasury note widened by two basis points to 119 bps this week. The spread remains well below the 132 bps reached on December 15 but far above the 70 basis points during the summer of 2016. The dramatic widening of the 2s/10s spread during the second half of 2016 was good news for the Federal Reserve but the spread still remains at a historically low level. Further widening would benefit financial institutions, who would see their net interest margins improve.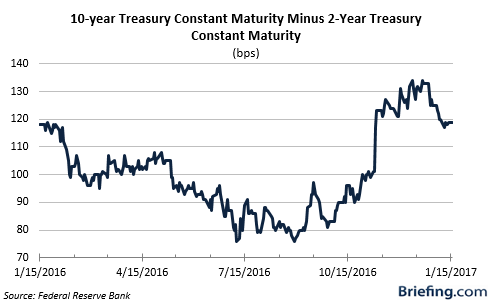 The yield premium on high-yield debt fell by five basis points to 386 bps over Treasuries of comparable maturities last week. Both oil prices and U.S. stocks ended the week somewhat lower so the best explanations are either that the rally in Treasuries reignited the race for yield, thereby compressing spreads, or that higher commodity prices (ex-oil) sent investors scampering to buy up resource producers' bonds. Junk bonds have been on a tear since last February, particularly on a relative basis versus Treasuries, and now appear to be priced for perfection, ie. low interest rates, steady oil prices, and low default rates.
Investment-grade corporate debt yields narrowed by 2 bps to 105 basis points over Treasuries with comparable maturities last week. Corporate spreads remain near very low historical levels despite increasing leverage at non-financial U.S. companies. New issuance in 2017 continues to be very high and should remain so as long as rates remain under their December highs and credit spreads continue to be very narrow.
The 10-year German bund yield fell by six basis points relative to the 10-year Treasury yield this past week to trade 212 bps below the Treasury yield. The 10-year German Bund is still well below its mid-December high, touched on the day of the European Central Bank's announcement that it would extend its asset purchase program beyond March 2017 but at a reduced rate of EUR60 bln/month. That said, the Bund yield rallied less in the second half of 2016 than the 10-year Treasury yield. Some analysts still view the German Bund as an attractive bet on a breakup of the eurozone (because German debt would then be paid back with sharply appreciating German Deutsche Marks. The downside of owning Bunds over the next 10-years (assuming there is negligible default risk) is only the loss of purchasing power and opportunity cost from buying a security yielding 0.34%. Some analysts therefore see this as a better way to bet on eurozone dissolution than selling euros or buying credit default swaps on periphery countries. If this is a commonly pursued strategy, however, then there will be a premium in the Bund market because some owners see this option value. That would mean that the losses in Bunds could be sharper than expected if inflation returns to the eurozone and political risk ebbs at the same time. That dynamic could also narrow this spread more quickly than expected.
The expectation for five-year, five-year forward inflation rose by eight basis points to 2.12%, remaining much higher than its pre-U.S. election level. Inf